Sustainable communication: if it's successful, then it's right.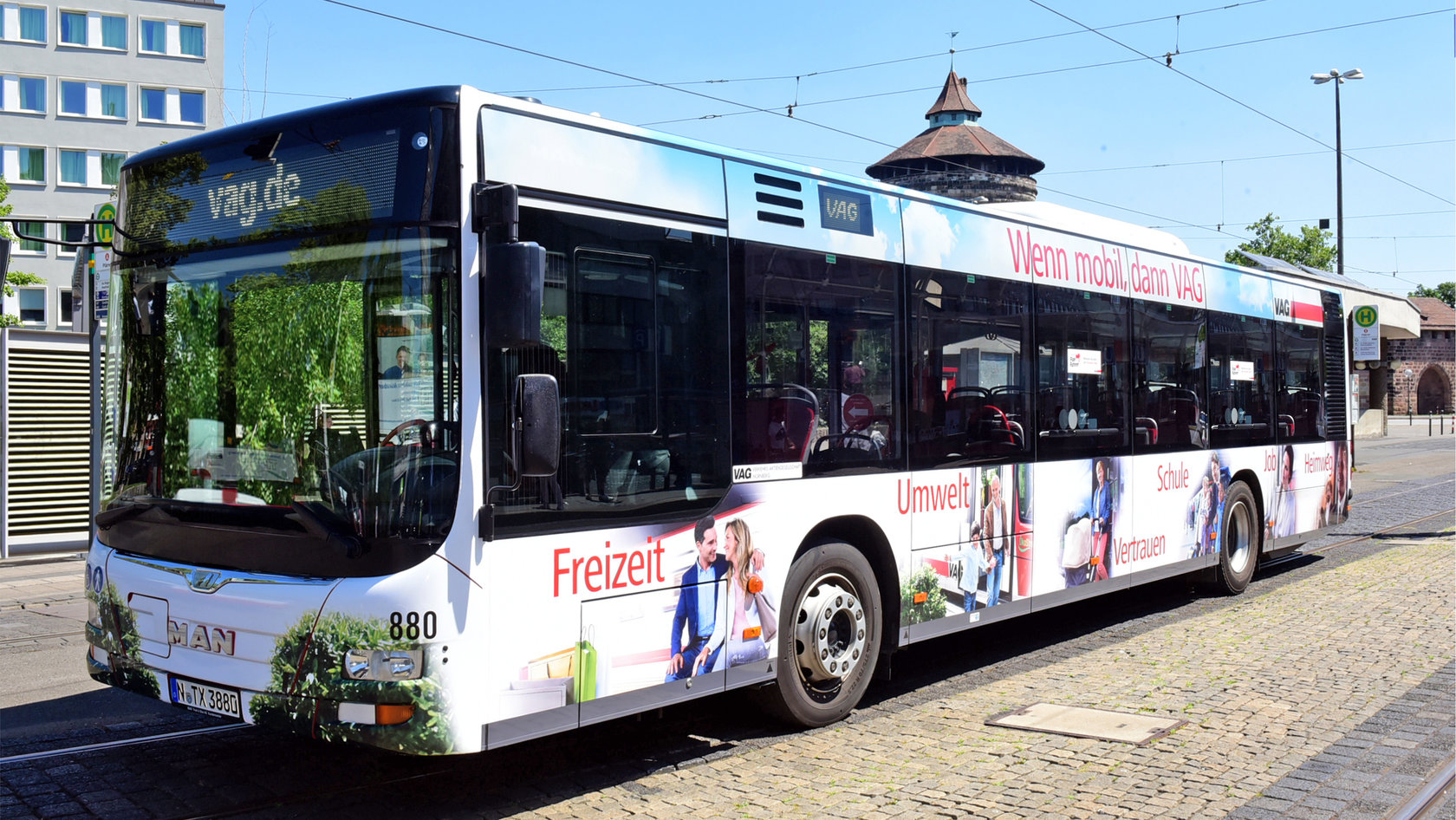 ---
Striking and memorable – strong ideas simply cannot be stopped, as proved by the current VAG Verkehrs-Aktiengesellschaft transport advertising. The Nuremberg advertising agency developed bus-side advertising for Nuremberg's public transport company and is taking the successful "Wenn-Dann" (English: "it-then") campaign into the next round.
Mobile advertising surfaces with potential
Two VAG vehicles – one standard and one articulated bus – are fully covered with the design and are attracting attention in Nuremberg's cityscape. The buses are not being used as advertising surfaces for customers, as they usually are. This time, they are being used for adverts on VAG's own behalf. The creative team at Bloom had to tackled two challenges here. On the one hand, they needed to find a way to put many different campaign motifs and their messages onto the buses in such a way that the motifs and the interplay between the individual elements could display their messages – "Wenn mobile, dann VAG" (translation: "if you want to be mobile, then use VAG"). On the other hand, they were limited to the surface area on the modern buses, and the window areas had to be left uncovered to ensure passenger well-being and comfort.
Strong ideas don't have expiration dates
Nuremberg ad agency Bloom originally developed the outdoor advertising materials for VAG in 2013 in the form of posters at stations and bus stops or info-screens in underground stations. But in the meantime, the "Wenn-Dann" campaign has since been used in all sorts of analogue and digital touchpoints in print, radio, social media, and even as trade-fair furniture in the form of cube seats.
By implementing adverts on buses, they are now realising new potential and gaining the full attention of passengers, pedestrians and other road participants. The timeless nature and flexibility of the Nuremberg public transport company's core message is an excellent example of how strong communication ideas can be used across all media and can successfully and effectively work over a long period of time.