AWARD_Winning Trigger E-Mail communication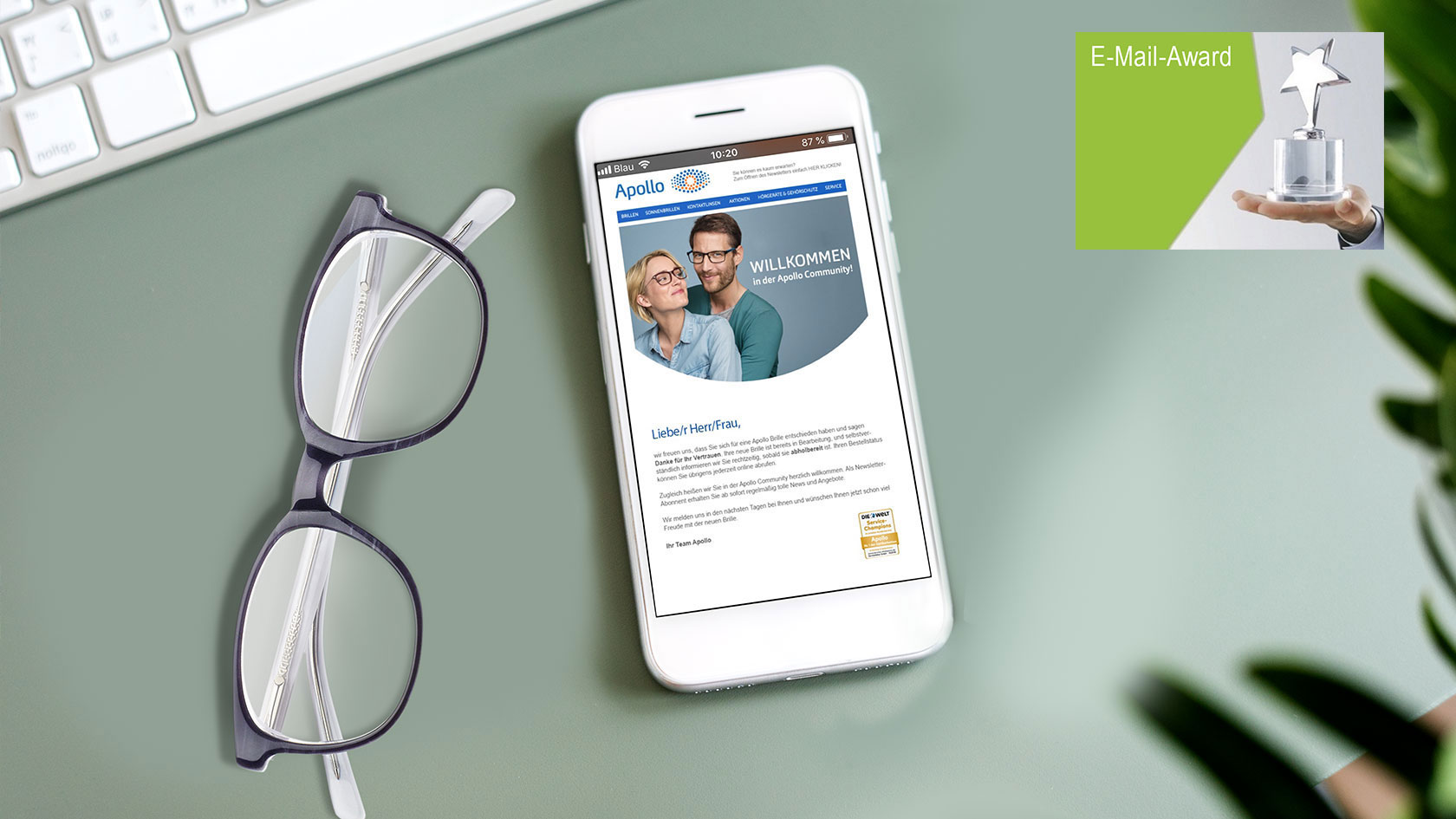 The optician with the most store branches in Germany addresses target groups with an automated
and personalised dialogue marketing approach. A successful model: the award-winning Apollo
trigger e-mail, designed by Bloom's Nuremberg office.
---
SATISFIED AND LOYAL CUSTOMERS – A REAL CHALLENGE
Apollo Optik is forging new paths when it comes to digital customer communication. The big objective is also a real challenge: creating greater customer loyalty, triggering repurchases and building trust in the brand and its services. The target group includes all customers who purchased glasses, sunglasses or contact lenses and care products online or in-store.
INTELLIGENT AND PERSONLISED – THIS IS HOW IT WORKS
Throughout the entire customer life cycle, a staggered mix of loyalty measures and sales accompany customers starting the day of their very first purchase. From newsletter registration and the first service notifications, through sales and content mailings, to birthday greetings, Apollo doesn't miss an opportunity for contact thanks to specific target group selection. However, it takes more than just the essential elements of perfect timing and continuity to ensure that this type of e-mail communication is successful. Creative implementation also plays a crucial role, as proven by the current trigger journey that Bloom Nürnberg developed.
CLOSELY INTEGRATED – ONLINE OFFERINGS AND BRANCH SERVICES
Whether current trends, seasonal topics or special offers, the newsletters and mailings cover the entire spectrum of Apollo's comprehensive range. One further focus is on the extensive services available in the online and brick-and-mortar shops, like a free vision test, online appointment reservation or the ability to virtually try on glasses using the Internet. Bloom Nürnberg always focuses on promoting these aspects when designing the communication; with topic-specific motifs, clear and modern graphics, and fresh colours, all e-mailings communicate at least one service package.
---
CONVINCING TEAMWORK – APOLLO AND BLOOM
The team at Bloom ad agency's Nuremberg office has been responsible for creatively implementing the Apollo e-mailings and other dialogue marketing measures since 2015. The solid teamwork and collective experience are paying off; Apollo was distinguished with the e-mail award in the "EMailing" category. An award that we are particularly happy to celebrate together with our customer.