B2B campaign for binaural hearing aid technology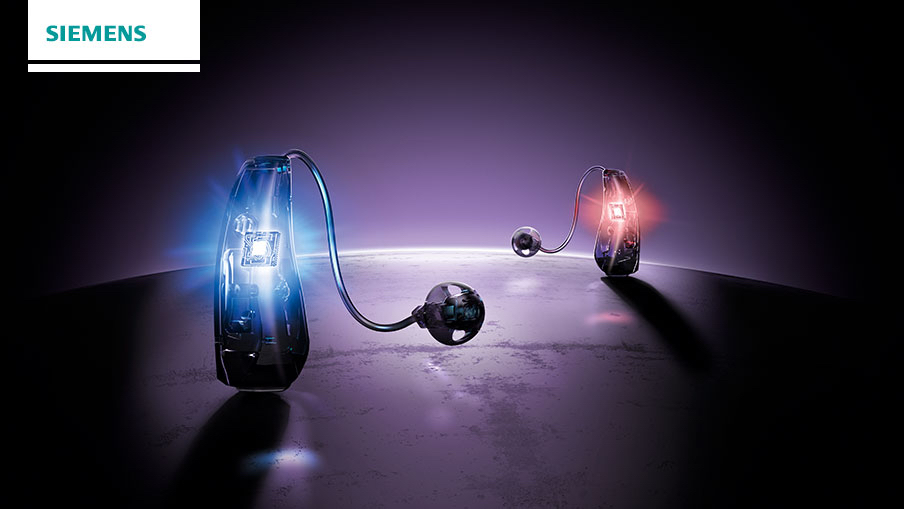 With a country-specific, adaptable B2B launch campaign, Bloom's Nuremberg office ensured the successful launch of a global breakthrough in hearing instrument technology: the binaural hearing system from Siemens Audiologische Technik.
Every global innovation first requires a powerful presence – also when it comes to hearing aid technology. Binaural hearing aids imitate the activities of the brain through data exchange. With binax, Siemens Audiology Solutions was able to create hearing instruments that reliably link binaural hearing with hearing aids for the first time and whenever necessary. This breakthrough in hearing aid technology had to be communicated via a global B2B lead campaign.
Firstly, the challenge of the task was not only to present the new binax technology platform, but also to introduce new products. Secondly, it had to be adaptable for various countries in order to suit a global player like Siemens. Thanks to the experience of Bloom's Nuremberg office in the area of hearing aids, this challenge was just perfect.
Binaural hearing always means the exchange of information between the input from both ears. This idea of data sharing is already clearly communicated in the name 'binax', a fusion of the words 'binaural' and 'experience'. The colours that divide the 'x' symbolize the exchange of information, as does the visually clear lettering. The communication between the two hearing aids also serves as the core idea for the key visual of the 3-stage campaign. The two hearing aids are connected via a light beam, which symbolizes the constant transfer of data between the hearing aids, which allows for permanent binaural hearing.
The campaign was launched with a teaser ad in various magazines and on the web. This created an exciting introduction for the idea, which was then further revealed in the eye-catching launch campaign. The launch ad had a presence in its own right, regardless of the teaser. As a third step, the light beam also featured in the product design – both for binax hearing aids and for the compatible accessories.
Implementation in different languages
binax technology was presented to the world for the first time at the International Congress of Hearing Aid Acousticians, where it was greeted with a tremendous response by audiologists from all over the world. One of the factors that contributed to its positive reception was the successful campaign with distinctive, striking visualisation that captured the professional audience's attention. The Bloom creative agency used the one2edit web editing tool to lay out all advertisements, thus ensuring that the global campaign could be easily implemented in different languages.