Advertising materials for new hearing aid technology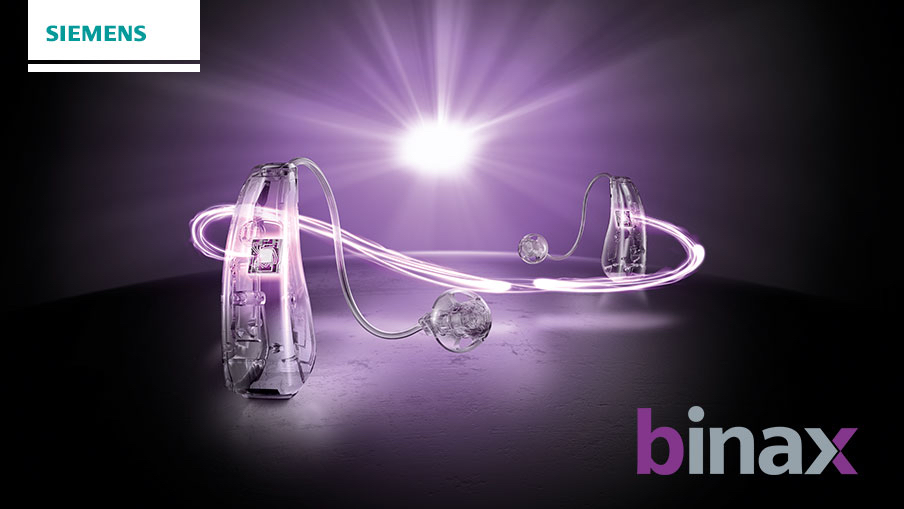 With binax, Siemens Audiology Solutions introduced a new technology platform to the market. Bloom developed all advertising materials for B2B-sell-in and B2C-sell-out for the market launch.
Advertising media package for the market launch
Same as in every field of technology, the hearing aid industry develops rapidly. In order to keep pace, or even play a leading role, it is essential to remain permanently up to date. Therefore Siemens Audiology Solutions launches new products every year in order to expand and revise its range. This time, however, they presented the Bloom creative agency in Nuremberg with a particular challenge: With binax, they brought a whole new technology platform to the market, revolutionizing the binaural hearing industry with completely new hearing aids.
The technology, including all products, will be launched at the 59th International Congress of Hearing Aid Acousticians. All B2B sell-in and B2C sell-out advertising media had to be developed for the event, in order to introduce the innovations to the market and support the business with product promotion. As in previous years, the Bloom communication agency in Nuremberg was assigned to create print materials, websites and other online advertising media.
Addressing the entire target group both online and offline
The first step was to explain the revolutionary technology and all new hearing aids and accessories to audiologists in a technically correct and detailed way. For this purpose, we developed the binax platform brochure, in which all outstanding binax features and related product innovations are explained.
Another indispensable advertising medium is the portfolio catalogue, which presents the audiologist with an overview of the current repertoire of hearing aids and accessories supplied by Siemens Audiologische Technik. The Nuremberg advertising agency's task is to keep the catalogue updated on a regular basis.
In addition to the print material requirements, the Counseling Suite digital consulting tool from Siemens Audiology Solutions had to be updated with regard to the relevant subject areas This provides hearing care professionals with a visual guide for explaining the benefits of binax technology to consumers in person.
Besides audiologists, end users should be made aware of the global innovation of binax. Since both experienced hearing aid users as well as new customers are addressed, the unique challenge was to develop advertising media that informs the complete target group about the benefits of the new technology in an understandable and appealing way. A leaflet was designed for each new binax hearing aid, featuring the particularities of each binax hearing system.
Since accessories and convenience are becoming increasingly important to people who wear hearing aids, these topics were prominently displayed in the form of a separate overview brochure. There, the customer can find information about the binax technology-compatible audio streamer, remote controls or charging stations listed by topic and with a brief introduction.
Technology, products and accessories were also prepared for presentation on the Internet in the form of web pages, e-mail drafts, banners and screensavers for eye-catching B2B and B2C communication.