Brand identity for factoring organisation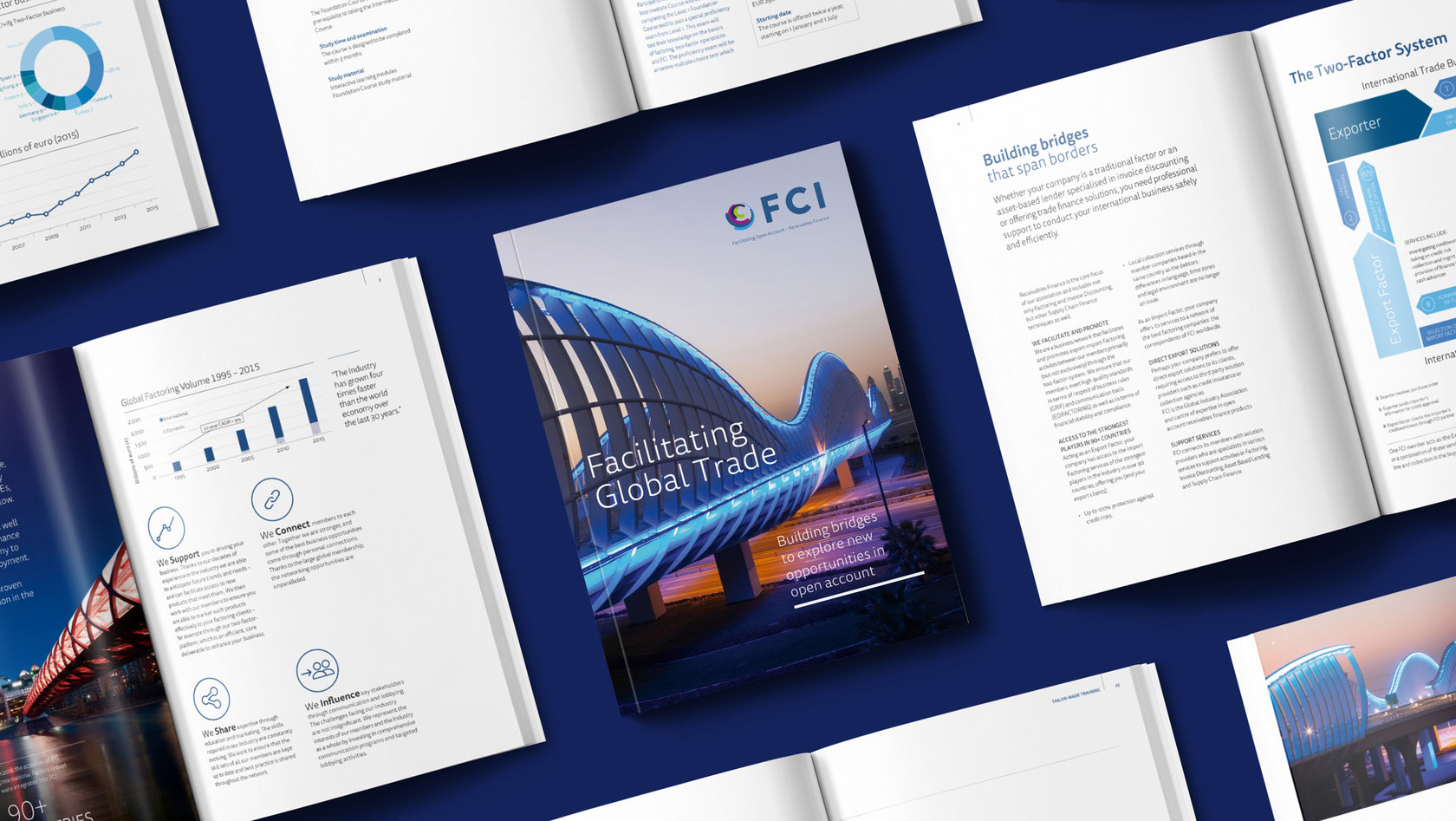 In addition to consultation services and development of the new brand strategy, Bloom was also responsible for creating an eye-catching appearance and the logo design.
Bloom develops a brand strategy
Factors Chain International expanded its position as the world's largest factoring organisation by merging with the International Factors Group. Factoring is typically defined as a revolving business transaction in which a business sells its invoices (accounts receivable) to a third party (a financial institution or a factor) to meet immediate cash needs before payment of the invoice is due. This process facilitates exports for SMEs, for example. Now FCI unifies about 400 member companies in 90 countries under its umbrella. To remain competitive in its own industry and maintain its sustainability in the future, the Dutch organisation is placing its bets on Bloom. In addition to consultation and the development of a new brand strategy, the Bloom advertising agency with locations in Munich and Nuremberg is also responsible for the new logo as well as for the brand's fresh, bold look. The branding design agency secured the six-figure budget together with the PR agency Burson-Marsteller after an international pitch.
The new logo: bold & striking
For development of the logo, the merger with the International Factors Group was the focus. The fresh, striking trademark projects the organisation's strong image and highlights the brand's parameters "Support", "Connect", "Share" and "Influence". To emphasise the organisation's global character, a colourful, dynamic circle resembling a globe has been added, which precedes the brand's acronym. The new claim, "Facilitating Open Account – Receivables Finance" alludes to the role of the association to facilitate international business and set standards for the factoring industry in the process.
In various international workshops and using a survey of all officials and in-depth interviews with selected senior management members, a comprehensive target group analysis was conducted as preparation. Against this backdrop, the strategic agency Bloom in Munich also developed the brand's role and strategy, positioning the organisation as a "bridge builder" based on its expertise. The brand identity built on this foundation was used as the basis for future communication.
"The realignment and new appearance have not only been very well-received by our members and stakeholders, but have also had a positive effect on our daily business", says Gwendoline de Viron, Head of Marketing and Communication at FCI. "Together with Bloom, we've managed to create a convincing brand story and a bold redesign of our brand on a global scale. We're very pleased about this and it shows that we made the right choice."