High quality magalogue for küchenquelle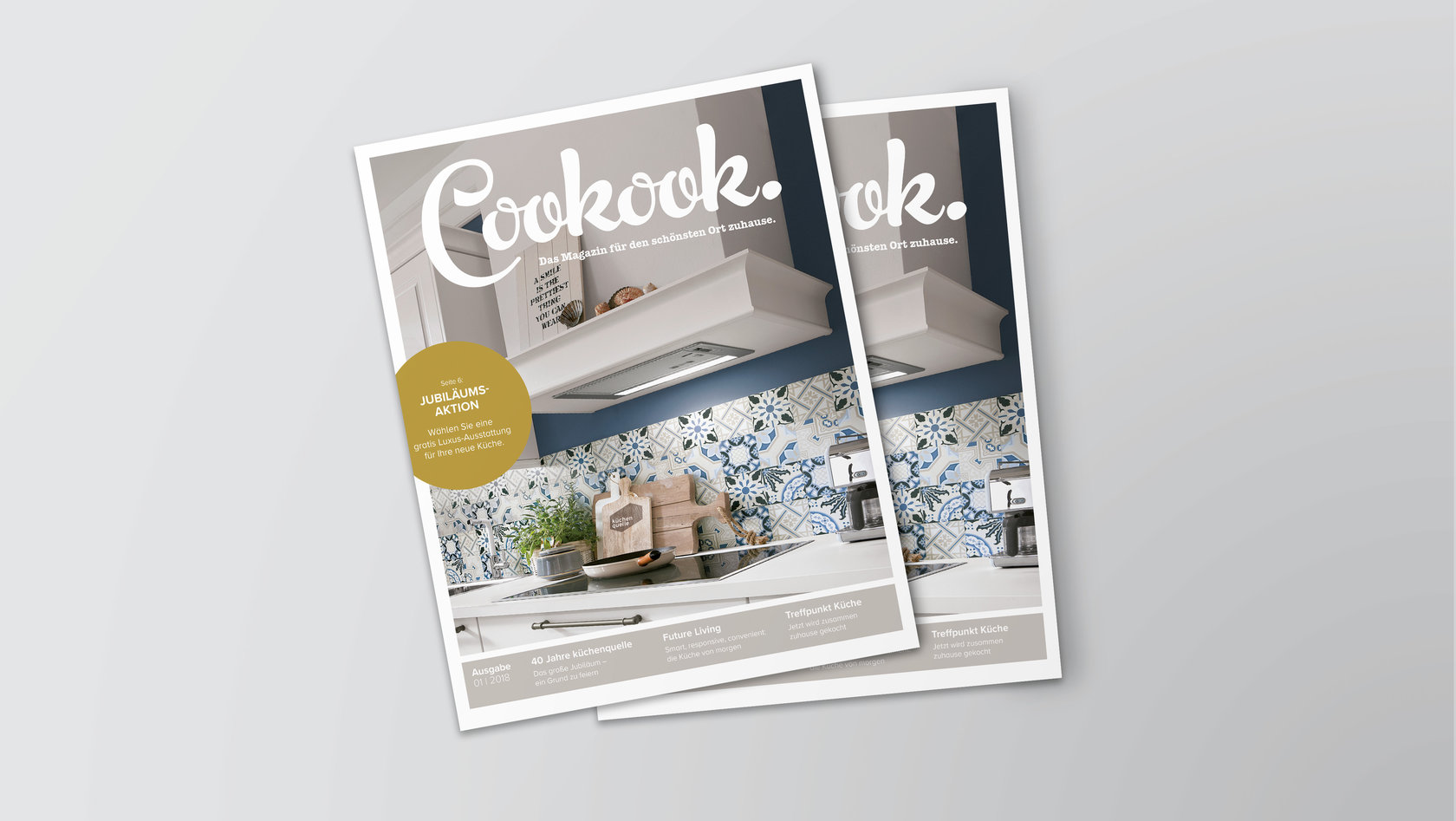 The modern "Cookook" magalogue for küchenquelle: developed and presented with storytelling by the Bloom advertising agency.
"Cookook": magazine meets catalogue
The cornerstone was laid 40 years ago. Since then, küchenquelle, a kiveda Group brand, has successfully sold over 700,000 customised kitchens to satisfied customers. Geared towards the needs of its target group, küchenquelle has been using an editorial catalogue (magalogue) as a customer contact tool and invited agencies to participate in the pitch last year. The Bloom creative agency was able to stand out against the five other competitors and was tasked with the design and layout of the magalogue.
Under the new name "Cookook", the mix of a catalogue and magazine now offers readers all sorts of information about the most beautiful room in the house: the kitchen. The goal is to appeal to potential customers on an emotional level with exciting content and attractive design, and also to convey the company's planning expertise. The Bloom ad agency also submitted the basic concept for the 130-page küchenquelle product catalogue.
First issue: "40 years of joy in the kitchen"
Starting immediately, "Cookook" will be published quarterly throughout Germany and be included with all küchenquelle catalogues. Furthermore, the magalogue will be distributed in the 13 German küchenquelle studios and also be used online. The first issue is according to the motto "40 Jahre Küchenglück" (English: "40 years of joy in the kitchen"), and küchenquelle will also celebrate this motto for the entire year. While customers can recount very personal stories in the "Lebenswelt Küche" section (English: "kitchen world"), "Cookook" also scores points with an "A-B-C of kitchens" guide to kitchen planning and tips about the natural miracle product baking soda. Seasonal topics, the newest trends and current sales campaigns whet readers' appetite for more. Colourful illustrations and lovely design create a charming and aesthetically pleasing look and feel.
Guest commentary about "future living"
But that's not all: each issue contains an article by a guest author that pushes the boundaries. And this is how Gerd Blank came to write about the innovative subject of "future living" in the January issue. When creating these editorial articles, Bloom uses its in-house content service, a journalism network created specifically for quality content in all fields.
"The new magalogue was intended to offer new and existing customers real added value. And this is exactly what 'Cookook' did," said Enrico Stange, Chief Marketing Officer at küchenquelle. "Together with Bloom, we were able to deftly combine our products and offerings with high-quality content, entertainment, and practical tips and tricks. At the same time, we would like to use 'Cookook' to reinforce our new positioning."