E-Mail Marketing Trigger Journey for the Holiday Extras ferry service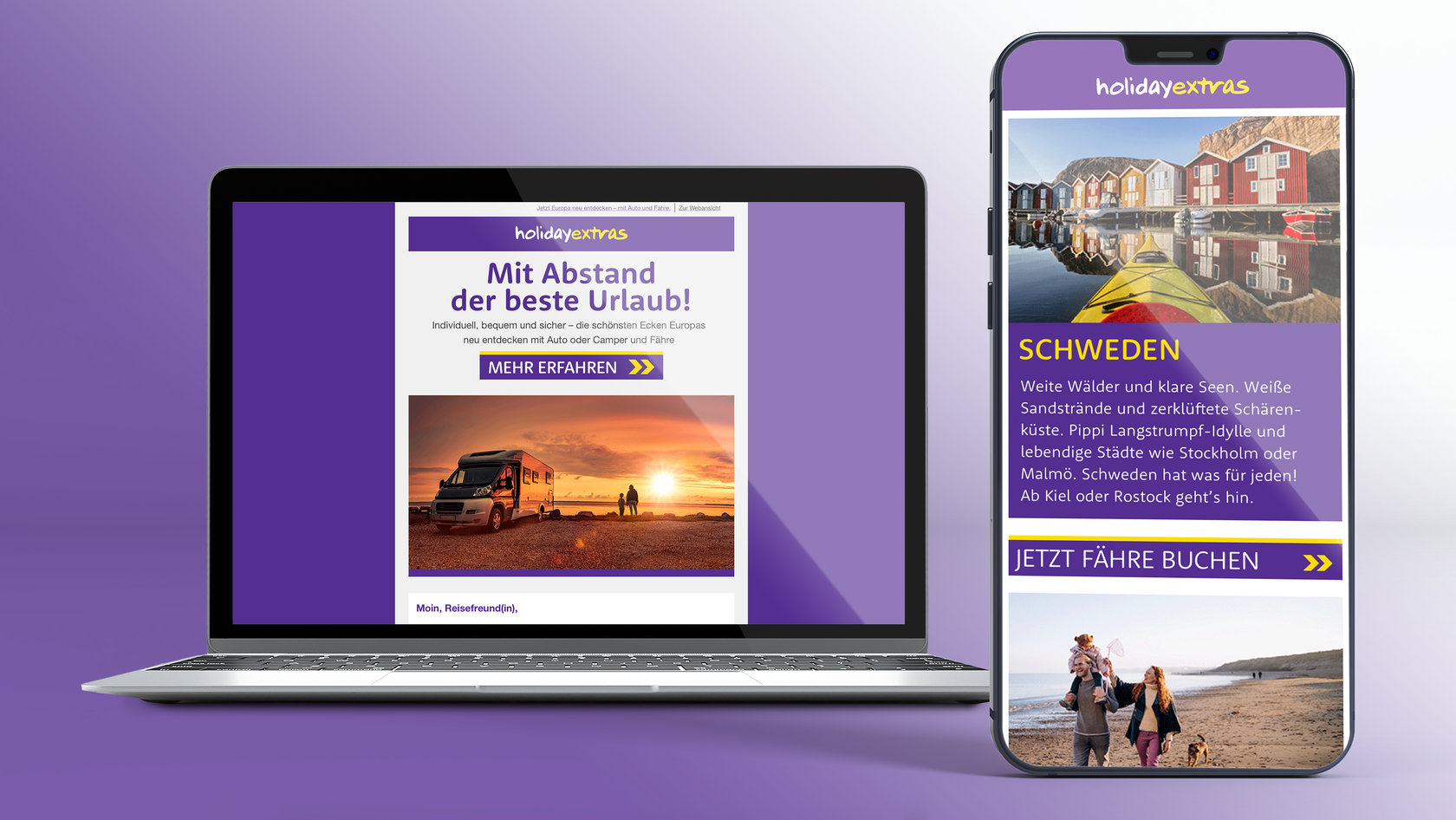 Holiday Extras is expanding its offerings to include ferry tickets. Bloom's Nuremberg office supports
marketing for this offer with ingenious e-mail marketing.
---
Our new customer, Holiday Extras, is the market leader for arranging travel extras like parking and staying overnight at harbours and airports, lounges, transfers and much more. Holiday Extras recently also started offering ferry tickets. To animate existing newsletter subscribers to purchase ferry tickets, Bloom's Nuremberg team developed a special trigger journey for this product in line with the company's e-mail marketing.
One of the challenges in the process: up to now, Holiday Extras customers were mainly air travellers who primarily use the "Park and Fly" offer. But ferry tickets are relevant for a target group travelling by car. So initially, the task was to anchor ferry tickets into the relevant set of Holiday Extras customers in the first place. What are the main drivers that inspire excitement about travelling by ferry? What are traveller's needs, and what benefits can holiday by ferry offer?
SOCIAL DISTANCING ON HOLIDAY – OPPORTUNITIES FOR FERRIES
One thing was clear: the coronavirus pandemic suddenly changed the way people travel. Instead of generally flying off to distant lands, many holidaymakers today prefer to travel in their own vehicles, by car, camper or motorbike. This trend towards individual travel was the tag for our first ferry newsletter. Select and appealing holiday destinations in Europe that can be reached easily, flexibly and safely by ferry played a central role here. The incentive to book was increased through special offers, like a 25% discount on ferry prices for ADAC members. In addition, Bloom developed content modules that can be used like "Trojan horses" in other Holiday Extras product mailings and in conjunction with current subjects that interest specific target groups, like the travel-by-caravan trend or travelling with pets.
TARGETED INCENTIVES BEFORE, DURING AND AFTER THE TRIP
During development of the entire trigger journey, we had to take into account the fact that the decision-making and booking processes for ferries are very different than that of flights and other travel products. This travel cycle – inspiration and planning phases, booking, travel, after the trip – is mapped chronologically and customer-specifically in a precisely balanced trigger journey. Over the course of eight months, the user receives a whole series of newsletters. The content is adjusted to the relevant phase and ranges from hotel booking at the ferry port, to a travel checklist shortly before the trip begins, through to a follow-up trigger with a request for feedback. For customers who do not book a ferry trip despite demonstrating interest by visiting the ferry page, there is an additional trigger journey to highlight the appealing aspects of the offer and increase booking incentives.
---