Employer branding strategy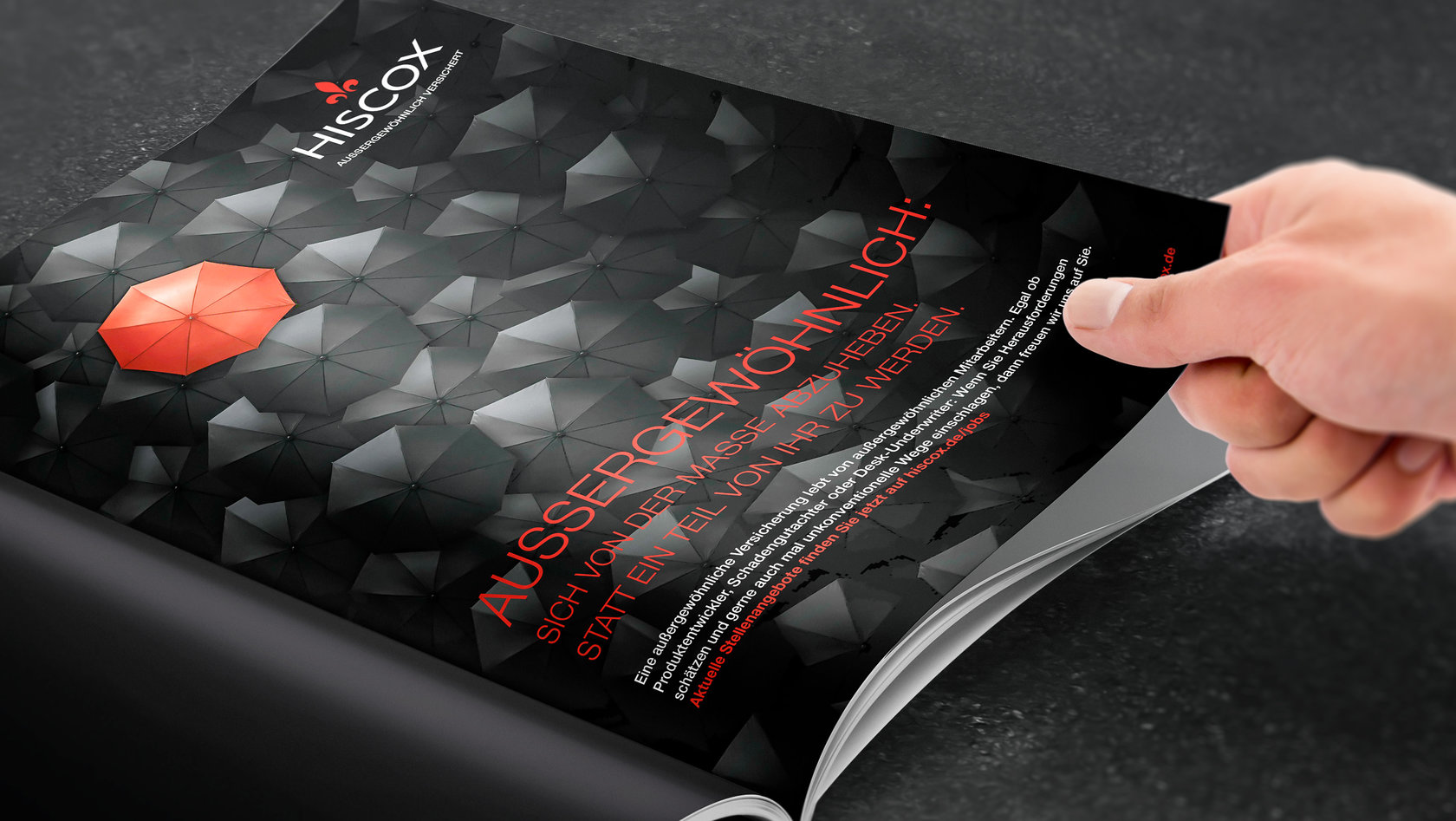 An employer brand master plan including data collection, analysis and work with personae served as the basis for employer branding. The central creative idea and an employer brand story used this master plan as a foundation during key visual development.
A special strategy for a specialised insurance company
Hiscox has its roots at Lloyds, London. Today it is one of the leading specialised insurers in Europe. To take care of its over 200,000 customers, the company develops innovative, individual solutions for specific risks – for example, Hiscox was the first insurer in Germany that insured its customers against cybercrime.
The Bloom strategy development agency in Munich was tasked with developing and implementing an employer branding strategy that would help Hiscox target appropriate applicants and interact with them in ways that can win them over in future. Hiscox's special characteristic as an employer: the job profiles are very different from those at any other insurance company. They usually combine several different areas of expertise in one position, so they are therefore looking for a very certain type of employee – and need special recruiting measures.
The employer brand master plan
We established a specific employer brand master plan just for this task, and this served as the basis for development. In addition to a structured data collection and analysis phase, the distinctive nature of this process also required consistent work with personae. These are created based on future job profiles, empirical values from the Human Resources department and general knowledge about the candidate group. The approach generates very differentiated strategies and simultaneously facilitates extensive recommendations about subjects like media and usability.
From the central creative idea to the key visual
After a joint workshop for strategy development, the Bloom advertising agency in Munich created a central creative idea and an employer brand story as the basis for key visual development. Finally, a new online corporate presence, job advertisements and poster motifs were developed.