Global employer engagement campaign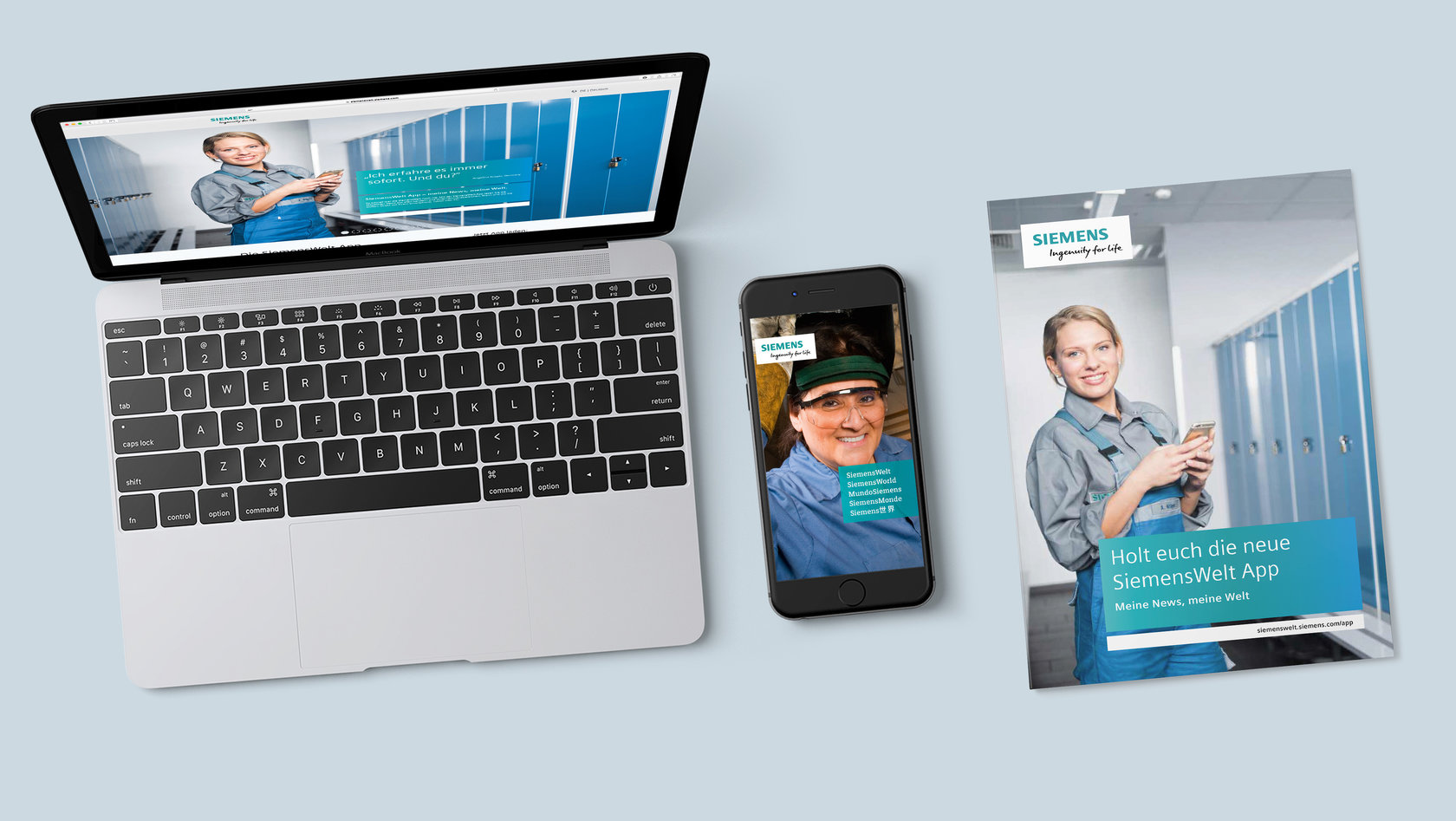 Bloom Munich implements a global employer engagement campaign for the leading technology corporation's employer magazine and its corresponding app.
SiemensWorld app for 350,000 employees worldwide
For more than 165 years, Siemens has stood for technical performance, innovation, quality and trustworthiness. The company is currently active in over 200 countries and places a strong focus on themes such as electrification, automation and digitalisation – not only externally, but internally as well. Over many years, the employee magazine SiemensWorld, published in 16 languages, has informed the 350,000 employees worldwide about all important events. That is now a thing of the past.
After a central editorial platform began bundling and publishing all news, the last and most important step for the digital strategy was launched with the SiemensWorld app. The app allows employees to stay informed, even if they do not have access to a PC, as they can read the latest company news with smartphones and tablets. After successfully launching the app for the DACH region (Germany, Austria, Switzerland), the app now is being localised for Brazil, France and England.
The claim: "News – your way"
To increase awareness of the mobile app amongst employees across the globe, Siemens commissioned Bloom's Munich office with developing the global engagement campaign. The claim "News – your way", highlights the app's advantages and innovations. The campaign motifs, which are present both on- and offline and in social media, place the employees at the heart of the app, clearly and explicitly explaining what can be expected: fast, personalised access to the latest, most relevant news, wherever you are thanks to various options for customising the app. To download the app, employees can simply scan the QR code. The complete communication package includes flyers, display ads, employee screens and give-aways.
"Employer engagement campaigns can be a difficult thing. Often enough, the company prefers something that requires the employee to actively increase output. It's like saying 'do this, do that, let us know'", says Hans-Peter Hösl, Managing Partner at the Bloom creative agency in Munich. "But that's exactly why we enjoyed working for the SiemensWorld app. We didn't have to ask for anything. We were able to simply stand there with a smile and say 'Hey, we've got something for you that's really good. Have a look!'"