Repositioning for the anniversary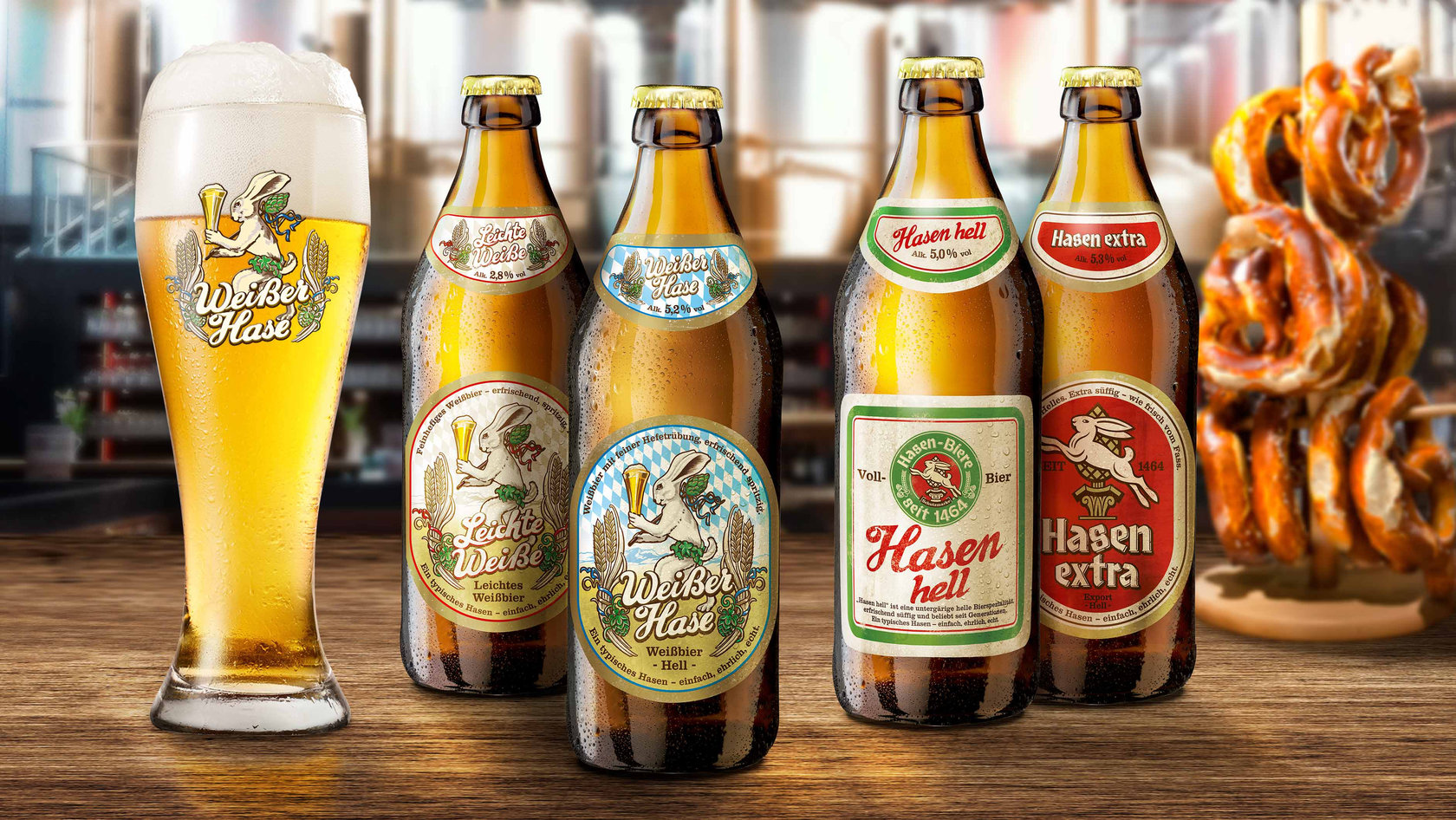 Bloom's task for the 550th anniversary of Hasen-Bräu: determine the best repositioning and build on it in order to drive overall brand and product performance.
Brand re-launch for the 550th anniversary
Hasen-Bräu ('Rabbit Brew') is one of the oldest breweries in Augsburg and was its largest brewing company until around 1980. However, these 'rabbit beers' did not really have the best reputation amongst connoisseurs. In 2011, the old Hasen-Bräu site was demolished and the brewery was relocated to the Kälberhalle. Since then, consumer doubts arose over and over again about whether Hasen-Bräu beer was even brewed in Augsburg at all.
Against this background, the Hasen-Bräu brand was to be repositioned in time for its 550th anniversary. The Bloom creative agency was tasked with determining the best positioning and building on it in order to drive overall brand and product performance.
The Bloom brand design agency developed a new brand image for Hasen-Bräu, with the tagline: "Simple, honest, real". Hasen-Bräu was positioned as part of the Augsburg brewing tradition, in which one can rightly take pride. The brewery in the Kälberhalle plays a central role; here Hasen-Bräu is brewed with meticulous craftsmanship, according to old Augsburg House Preu tradition.
As part of the repositioning of the brand logo, the packaging has also been completely revised. Simple, honest, real – it clearly communicates the essence of Hasen-Bräu beer. The new product design with the big-bellied euro bottles and nostalgic paper label conveys tradition, craftsmanship and practicality.
The same applies to the brand communication: an elaborately designed brand folder presents the new Hasen-Bräu brand world, with information about the history and a showcase of the new products and advertising media for the retail and gastronomy industry. From business vehicles to gastronomy equipment, a consistent brand image has been implemented.
Noticeable increase in Hasen-Bräu beer sales
The new brand identity resonates with retail, catering and customers. An anniversary supplement in the Augsburger Allgemeine, brand presence at the consumer fair "afa" and a free "Day of Beer" promotion sparked a lot of conversations around Hasen-Bräu beer. During the first weeks after the product relaunch, Hasen-Bräu beers already saw a noticeable increase in sales.