If-then image campaign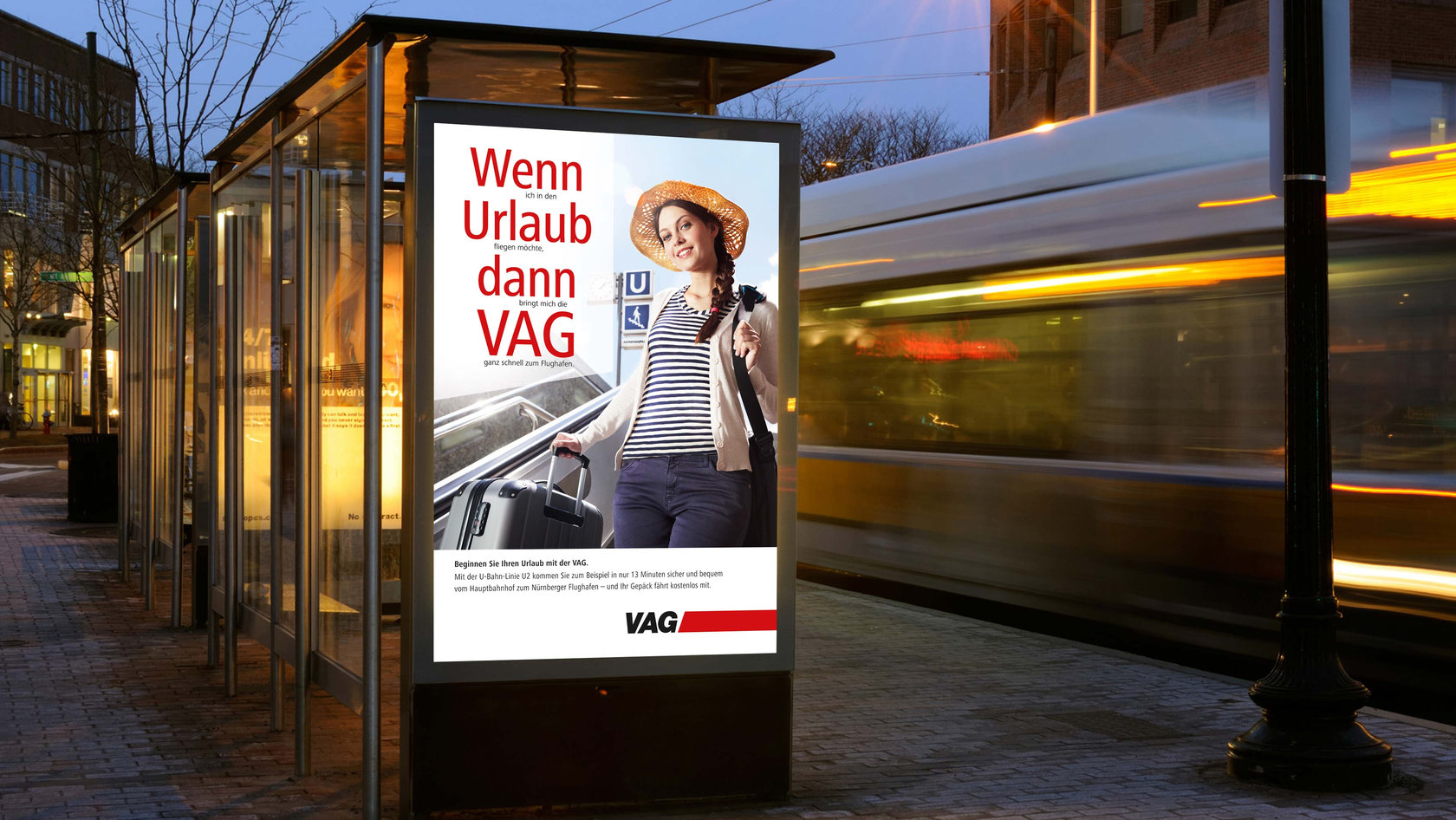 The image campaign developed by Bloom uses surprising text mechanics. There is no either-or, only if-then. It can be seen on billboards and posters, hanging in subway stations and on VAG vehicles.
After a hard-won pitch, there was great joy at the Bloom creative agency in Nuremberg over the new VAG client account. Equally great were the client expectations for the first promotional materials created by Bloom Nuremberg for the local public transport provider. Even greater was our commitment to conceptualise a great campaign when it came to the collective brainstorming involved in getting the initial campaign on track.
The overall focus of our campaign was to create awareness for the challenging and diverse range of VAG responsibilities while presenting the company as a reliable partner for the citizens of Nuremberg and the greater metropolitan area. All that, with distinctive visual appeal, innovative copy and an absolutely watertight conceptual structure – but that goes without saying.
There is no either-or, only if-then.
To cement our concept strongly in the minds of the target customers, we let the facts speak for themselves and focused on a selection of plausible examples from the daily range of VAG services – and thus from the daily lives of every potential VAG customer. The story was this: whether it's about conservation, quality of life, or travel planning – with VAG you can be prepared for everything. There is no either-or, there is only if-then. That is what VAG stands for.
Information, motivation and emotion were the focus of communication and formed the conceptual basis for a campaign driven mainly by surprising text mechanics. Our headlines communicate the essence of the campaign simply, with only four well-chosen keywords. Supported by substantiating body copy, the result is a word game that plays with distance and curiosity and actively engages the viewer.
Noted in Year of Advertising
The Nuremberg public has been able to view the billboard and poster designs throughout the subway stations and relevant VAG transport areas across the entire metropolitan area. For Bloom Nuremberg, the campaign is already a great success because it shows once again that we can deliver functional, conceptual creative work for our clients. All to the highest standards, no matter what the scope of the project. We are proud of our work and are already looking forward to our next project with VAG.
As a very special bonus, we were happy to be mentioned in the Year of Advertising in the "Tourism and Transport" section.