Launch campaign for Werbestopper.de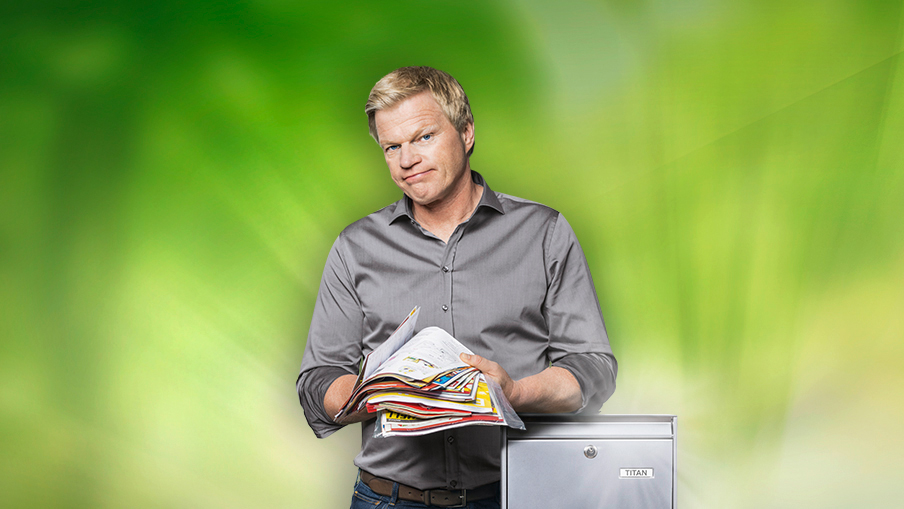 Bloom designed a launch campaign for Werbestopper.de with a testimonial from Oliver Kahn. In addition to the out-of-home campaign, the nationwide German B2C campaign included all digital advertising measures and implementation of the website.
The online service to prevent unwanted ads
Surely everyone has come across having their mailbox stuffed to the brim with printed ads of which only one or two are worth keeping whilst the rest ends up in the trash. Werbestopper.de, an online service developed by the GDVI, wants to change all that.
Contrary to stickers on your mailbox or signing up for lists, Werbestopper.de (literally "Ad Stopper") directly targets advertisers. Consumers who sign up for the free online service can defend themselves against unwanted printed ad material whilst choosing to keep on receiving selected ads. This reduces the amount of waste paper and protects the environment at the same time. The project is supported by the WWF; in turn, Werbestopper plants a tree for every registration to help the WWF with reforestation projects for tropical forests in South America and the Congo basin.
Striking with the help of titan Oliver Kahn
Bloom creative agency in Munich prevailed in the pitch and developed a striking, direct launch campaign with a testimonial from titan Oliver Kahn, whose successful football career makes him the perfect ambassador. Apart from an out-of-home campaign that will be seen in several large German cities in mid-September, the nationwide B2C campaign includes all digital advertising measures and the implementation of the new website. During the brand development process, great value was placed on concise, clear communication of the message across all channels – and it was successful. In line with the slogan "Keeping your mailbox clean", Werbestopper is summed up with a striking design and in just a few words.
The goal of the B2C campaign is to call consumers' attention to the new online service and establish it on the market. "Werbestopper is a useful consumer tool but people need to be made aware of it first", says Christian Geltenpoth, GDVI CEO.