Outstanding Employer Branding – Made by BLOOM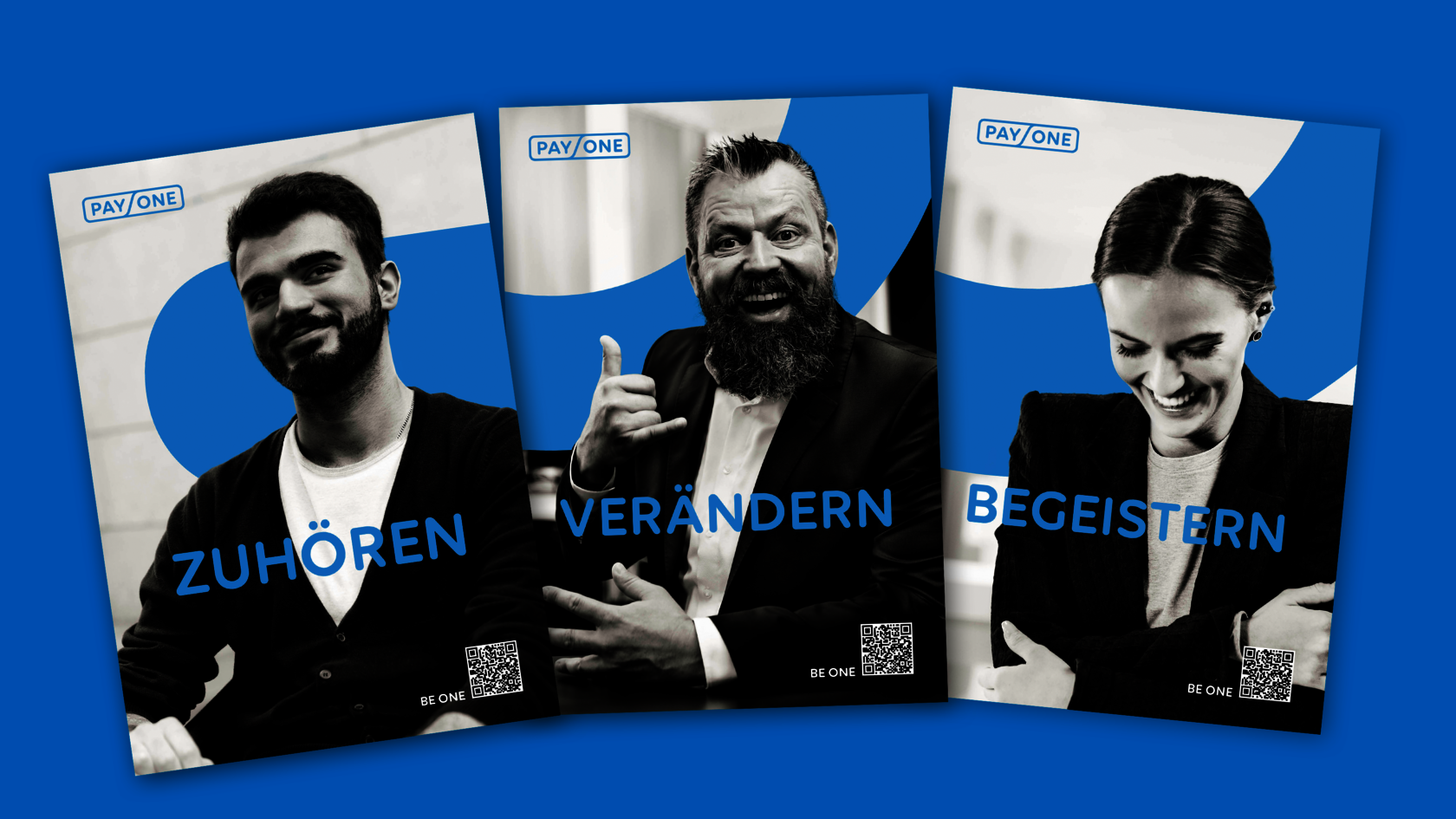 Successful employer branding is becoming increasingly important in these times when specialists are hard to come by. But what exactly does that look like? We have a few ideas. This one for example: the campaign "Become ONE" we created for our client PAYONE. We are particularly happy that it not only exceeded all expectations, but it also made it onto the Effie short list in the "B2B Employer Branding" category and the HR Excellence Awards short list in the "Change Management" category!
The campaign's starting point was the largest merger of the year in the payment industry: BS Payone and Ingenico Payment Services merged under the name PAYONE to become the leading payment provider in Germany and the DACH region. Overall, 1,200 employees at eight locations were affected. And this kind of change naturally doesn't lead to unbridled excitement. Feelings of insecurity and anxiety about the change were inevitable.
THE CHALLENGE: A CULTURE CLASH
Several factors complicated matters: The staff at BS Payone had just come to terms with the last merger in 2017. Moreover, two completely different corporate cultures were thrown together: a German medium-sized enterprise with processes similar to credit unions and an international French company with a culture based in engineering. The situation required particular delicacy to ensure all employees felt involved and able to get excited about the new brand.
BS Payone and Ingenico have joined together become the market leader – the Number 1 in the DACH region. And that starts with the employees: So in line with the "Become ONE" motto, all of the measures contributing to the development of the employer brand were to come from the employees themselves. That created an employer brand that was valued by each individual employee. The brand values "Listen. Change. Inspire." are a living mantra of cooperation.
THE TOUCHPOINT STRATEGY: REACH EVERYONE, INCLUDE EVERYONE
The worst feeling for employees is when they feel like they are being controlled "from up top". We wanted to do things differently – and included the workforce from the start. So the "Brand Enabling Workshop Program" went on tour through the corporate locations and generated valuable firsthand input. At a town hall event – live or via live stream at all eight locations – the staff was informed about planned measures and was able to vote and rate certain issues or pose questions to the speaker via the slido smartphone app.
THE RESULTS: ENTIRELY AWARD-WORTHY!
---
SUCCESS THROUGH THE AGENCY CIRCLE
We would like to thank everyone who participated: PAYONE Agency Circle with Matthias Trusheim, LLR, sugarandspice, Schäfer mi ae, Crossmedia and of course the one who made it all possible – our client PAYONE! Many thanks to Melanie Schröter, Anna Bertram, Julia Huszarek and the whole team!
---