BLOOM develops Brand Communication for Augsburger Thorbräu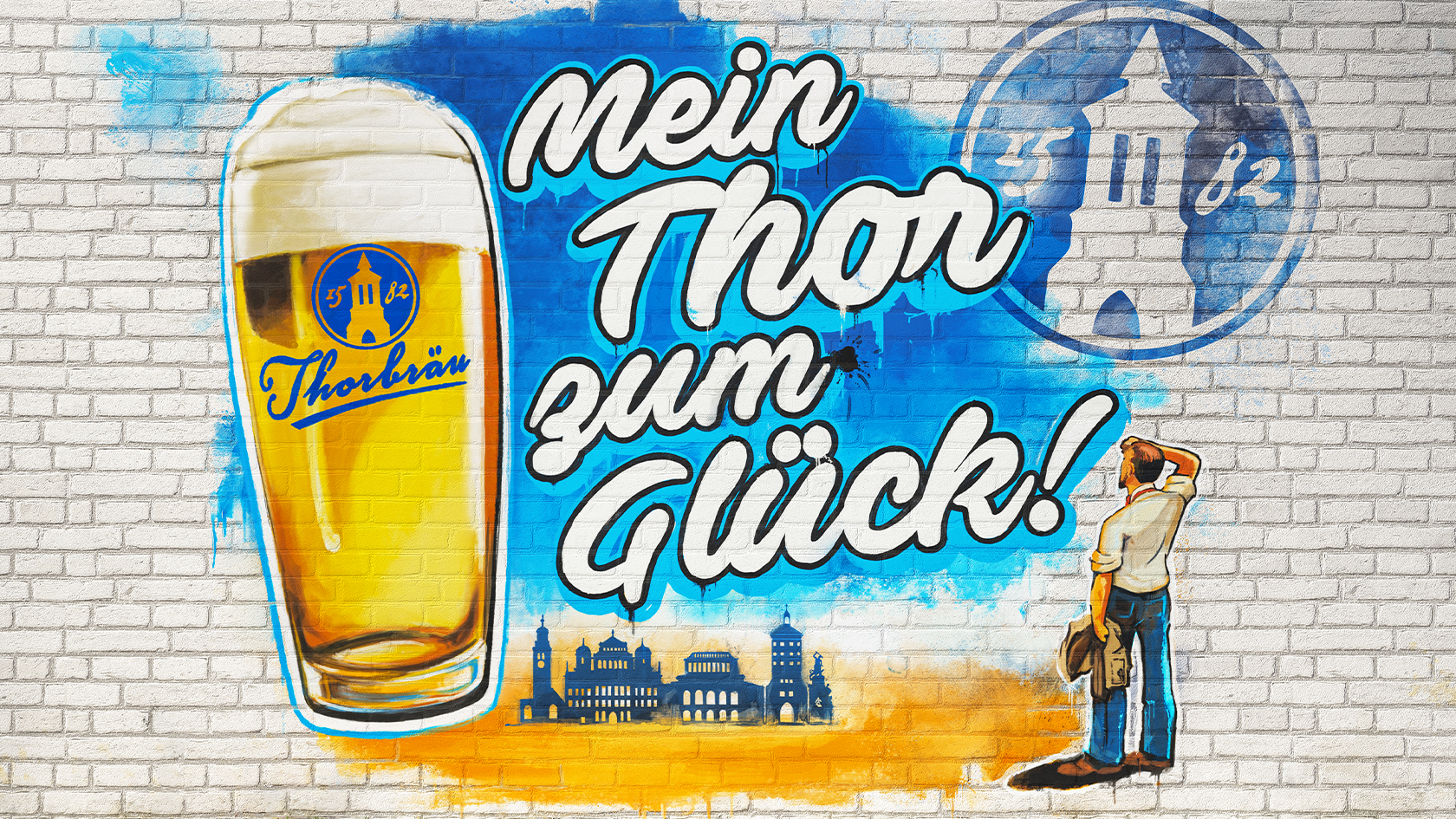 Augsburg-based Thorbräu is a small traditional brewery in the heart of Augsburg's old town.
Thorbräu's three new beer specialities clearly demonstrate that it has roots and a unique identity –
two factors that are more important than ever in today's digital world
---
BRAND DEVELOPMENT – AN INVESTMENT IN THE FUTURE.
Small and medium-sized businesses often underestimate the significance of brand communication. They think it's something reserved for the big guys – too expensive. And anyway, a truly good product will find its way to customers on its own – or so they assume. But sustainable brand-building is valuable in every respect, even for the "little guys". In the short-term, it increases revenue since higher prices can be demanded. But even more importantly, it increases the value of the brand in the long term. And a strong brand provides security and stability, even when the competitive pressure increases and sales figures stagnate.
PACKAGING SHAPES THE BRAND IMAGE.
At Bloom's Nuremberg office, we have since become experts in developing a strong brand, even without a large marketing budget. Step by step, with a clear strategy and the necessary rigour. Thorbräu is another shining example of how this can work. We began with packaging for their three products: pale ale, dark lager, and Augsburg white beer. The labels, crates and six-packs are intentionally designed to be simple, authentic and discreet; this highlights the craftsmanship and traditional character of the beer. Focus is placed on the slightly updated traditional trademark, the Wertachbrucker tower gate where the brewery can be found and from which it also got its name. As well as the unique product design, eye-catching ads for both key channels of retail and food service spark the necessary interest.
NEXT STEP: BRAND COMMUNICATION.
Many owners of small and medium-sized business are of the opinion that their homework is done at this stage. But not Max Kuhnle, the father of Thorbräu beers. He wanted to aggressively get the word out about his Thorbräu brand and make a unique impression in the process. He found the perfect partner in Bloom. Based on our positioning, we derived the brand communication in the next step. Bloom developed a key visual in a flashy graffiti style directed towards the young target group who demonstrates an increasing preference towards small, local beers. The headline "Mein Thor zum Glück" (roughly translated, it is a play on words that can be understood as "my door to happiness") uses the brand name for a powerful product claim. The visual interpretation is a thirsty man standing in front of the silhouette of Augsburg, and a larger-than-life beer glass floating like a promise above everything. The claim "Thorbräu. In Augsburg daheim" (translated as "Thorbräu. At home in Augsburg.") emphasises its origins and identifies with the city and its residents.