Bloom Nürnberg develops new trainee recruiting campaign for VAG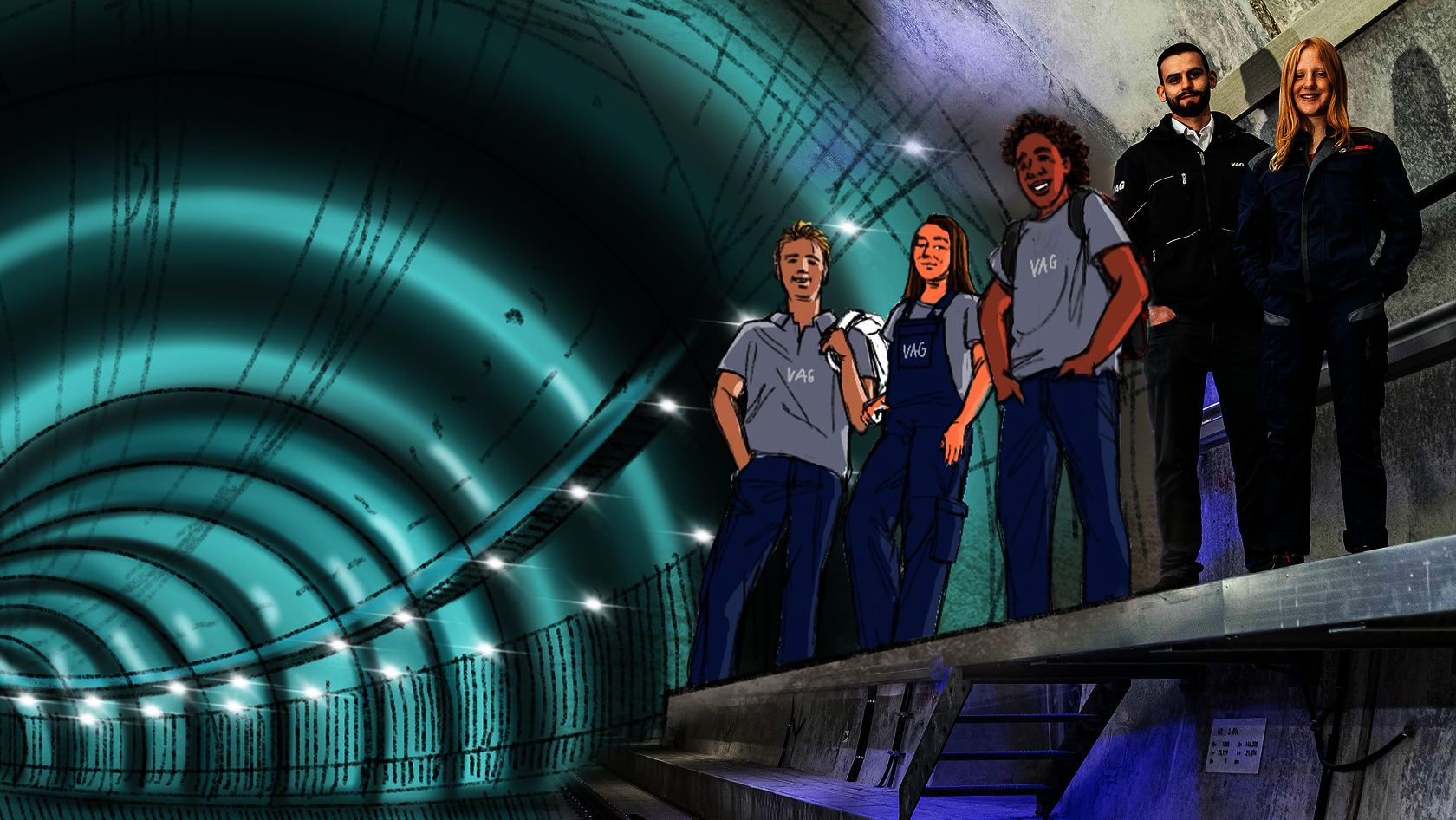 Fighting the shortage of skilled workers with qualified training: To recruit new trainees, VAG Verkehrs-Aktiengesellschaft Nürnberg presents itself as an attractive training address. Bloom Nuremberg developed therefore an exciting campaign concept.
---
Finding apprentices is not getting any easier for companies. Thousands of apprenticeship positions remain unfilled these days. The reason for this is the decreasing number of school leavers and the tendency towards higher qualified school-leaving qualifications as well as the desire of many to study. The various sectors and companies are in fierce competition with each other when it comes to recruiting apprentices. If you want to be successful in recruiting trainees, you have to show your presence and profile – and give a good answer to the young people's question: Why should I do my training there in particular?
Appealing to the skilled workers of tomorrow
The Nuremberg public transport service provider VAG also looks for new trainees every year – the skilled workers of tomorrow who will keep public transport running. To get Generation Z excited about training at VAG, the communications agency Bloom Nuremberg developed a new recruiting campaign. As part of the classic VAG "If, then" campaign, three themes were created: One each for the two apprenticeship professions of electronics technician for operating technology and skilled driver (FiF), and another group theme that was intended to address the topic of "training at VAG" in general.
An apprenticeship with career prospects and a guaranteed future
But how can the VAG be introduced to the target group of young people between the ages of 15 and 20, who are about to graduate from secondary school or business school? The answer: VAG offers trainees attractive career prospects with a guaranteed future. This is a decisive factor, especially in today's crisis-ridden world – and also for parents, who are often involved in this decision.
The campaign themes are focused on the professional future and are visualized with an exciting image concept. The young people, real VAG trainees, are each seen in an unusual and spectacular VAG environment: in the subway tube, in the elevator shaft of a train station, in the storage hall of a streetcar depot. The central perspective composition of the images conveys openness and depth – space for personal and professional development. And the illustrations make something else clear: At VAG is the focus stays on people, with their individuality, their talents and their opportunities.
A communication presence suitable for young people
With its powerful recruitment campaign, VAG presents itself in an appealing, modern and likeable way, without faking to young people by pretending to be cool.
Bloom Nuremberg was responsible for the image and text concept, while VAG implemented the themes on its own. The three illustrations are used as city light posters, targeted in the neighborhood of selected secondary schools and business schools in Nuremberg, as well as on the company's own recruiting website and on social media platforms such as Facebook and Instagram.