Bloom launches Hemovent's web presence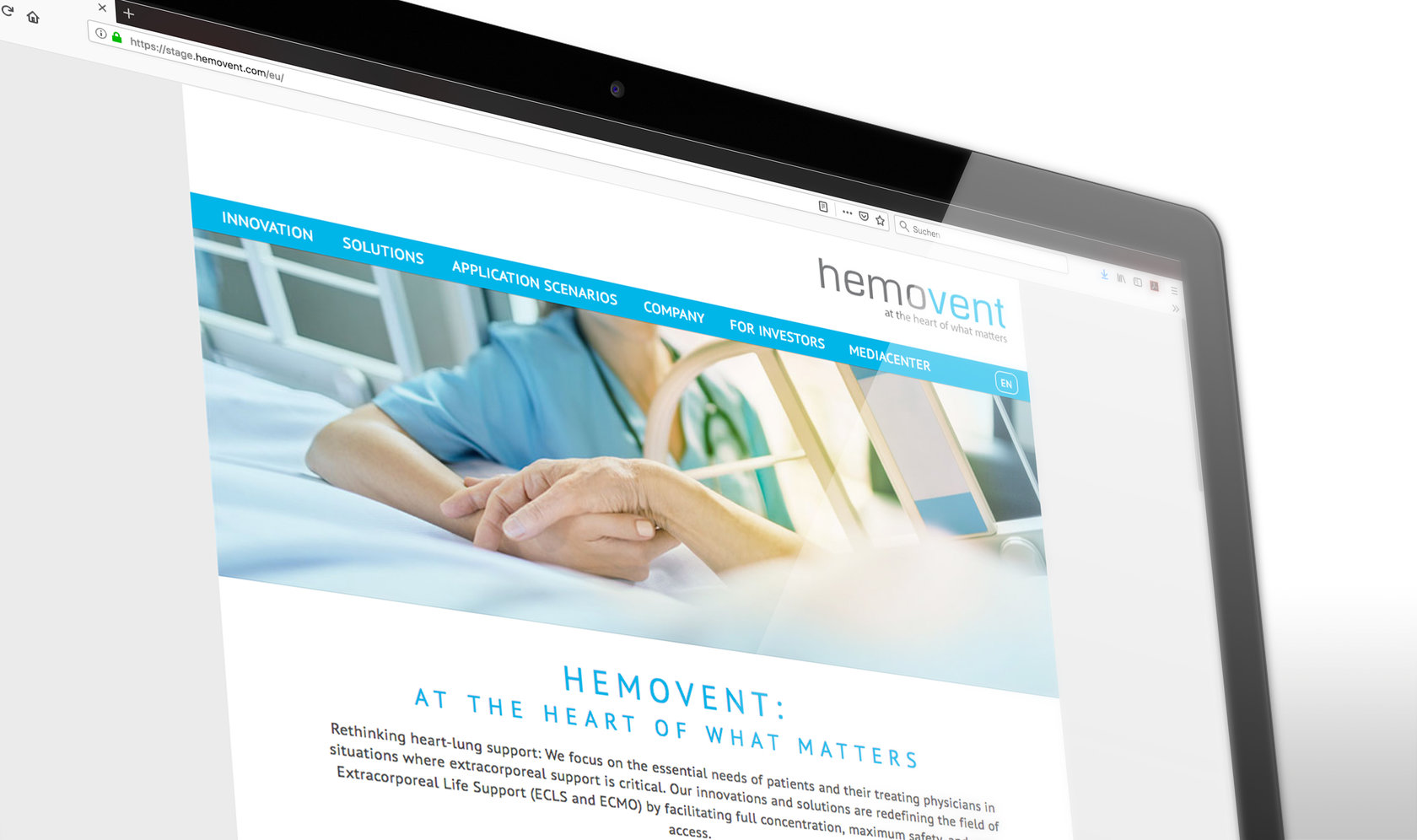 After taking on the tasks of corporate positioning, corporate design and product naming for Hemovent, Bloom took on the launch of Hemovent's website – from the creative concept to programming of the front and back end, from content development through to implementation.
---
Hemovent – the disruptive new player in medical device technology
The company is currently revolutionising the ECMO market with its innovative Bionique Flow technology and the world's first fully integrated, smallest and, most importantly, portable heart-lung device. After Bloom developed a memorable name and branding for Hemovent's flagship product a year ago, it was time to launch the brand's new online presence. It is an online resource where intensive care doctors, emergency surgeons, specialised hospital personnel, and private and capital investors can find everything they need to know about the company and its innovative product portfolio.
Website concept – informative and striking
The freshly launched site is based on TYPO3 and presents the company with a modern look and feel, standing out with a clear and user-friendly structure. During the design and implementation process, online agency Bloom attached great importance to making Hemovent's online presence informative and striking without seeming cluttered. The agency used short, to-the-point content with self-explanatory images to do this. The greatest challenge lay in highlighting Hemovent's humanitarian corporate philosophy while simultaneously focusing on the revolutionary Bionique Flow technology and the innovative medical products in the field of heart-lung devices.
---
Understanding complex subject matter
Christof Lenz, CEO of Hemovent GmbH, Aachen, put it this way:
"After successfully working together during the naming and branding process for our MOBYBOX™, there was no doubt that we also wanted to realise our company's website together with Bloom. And here, too, the agency's experience and understanding of complex subject matter more than paid for itself. We are happy with the result and feel that the new presentation perfectly reflects our company, philosophy and innovative spirit."